I'm not an artist – I am a fucking work of art: My Blog 2019
I started this blog in on March 27th this year, so almost exactly nine months ago. And oh my gosh, what a journey those nine months have been! I had had blogs before but none of them felt right: they were too personal, too intellectual, too limiting. But a sexblog? It seems like I have finally found where I belong. The sexblog umbrella embraces so much of what I want to talk about, and it is not putting much boundaries on who I am.
I first had the blog on wordpress but after reading some of the Smutlancer, I realized that the best move would be to have my own domain. After doing some research, I managed to create my domain, find a (mostly) reliable and sex-friendly host and moved all my content over. I can't believe I got it done all on my own, but I did! There were a few glitches here and there, but it went really well overall. I also changed the name of the blog from puppet's secrets to deviant succubus. And it seems like that was a smart move, as the name is easy to remember, to google and it is quite clever.
In the beginning I mostly focused my writing on BDSM and D/s related topics, but then also discussed things like mental health. Eventually I even felt comfortable posting pictures, writing more and more about personal experiences and I even dipped my toe into erotic writing. I love how everything has evolved and how I am more comfortable and confident with what I write and post.
But most of all, I enjoy being part of the sex blogging community. I love that there are conversations in my comment sections, I love getting inspired by other bloggers, I love getting feedback and appreciation. I have learnt so much from others, and I have been wowed many times. You can read about who has had the most impact on me in my post about My Top 20 Sex Blogs of 2019.
Pictures
In the beginning I was quite shy about posting sexual pictures of myself on my blog. I had been a bit naughty on Fetlife, but a blog is more of a public space and I was just worried about the feedback I'd get. I discovered the different picture memes and eventually I made it a routine in my week to take a photo for them. I went from the usual selfies, to eventually challenging myself when it comes to angles, and becoming more creative with edits, set-ups and body parts being featured. While I don't see myself as a photographer (I don't even own a proper camera), I love trying to be creative with my pictures. 2019 has shown me that it can be fun to turn myself into a work of art. As the fantastic Marilyn Manson says:
I'm not an artist

I'm a fucking work of art

(S)Aint – Marilyn Manson
You can read about the progress of my picture taking here and here.
Sinful Sunday
One of the picture memes that I try to contribute to every week is Sinful Sunday. I totally love Molly's initiative and I make sure that I comment on everyone's pictures each week. I am often blown away by the creativity and sexiness of people out there.
My three most viewed pictures from my Sinful Sunday contributions are:
Bliss – My most sexual picture, I think. I took the photo in response to a "friend" of mine's attack on my sex positivity. I was hurt and angry about her comments and decided that instead of hiding, I am just going to go all the way in instead.
Post-Traumatic Love – This picture was taken after being still high on the music of a concert I had been to. I was a bit more daring and decided to play with shadow and light.
Post Squirtum – This is a snapshot after a very intense sex session: the floor covered in my juices and my butt in its most alluring shape.
My three favourite pictures of my Sinful Sunday contributions are:
Glorious Gazebo – I really love my mohawk in this. Everything just seems to fit and I think I look really hot in this one.
Harley Quinn – I had so much fun shooting this. I mean, I even bought a baseball bat for it! It was really cool to embody the madness of the character.
Enfolded in Light – We took this picture after having driven around town to find a good spot to take a sinful picture with a Christmas tree for hours. And then we found it, the perfect spot, at 1 AM, in the middle of the city. And I love how it turned out.
I have been lucky enough to be featured in some of the round-ups for Sinful Sunday, meaning that my pictures got picked to be in the top five of the week. The pictures that made it are: A Still Moment, Yours, Post Squirtum, Lollipop, This Roaring Silence and Good Girl.
Gallery of my Sinful Sunday pictures
Lingerie is for Everyone
Another picture prompt that I try to contribute to every month is Lingerie is for Everyone. This prompt is also about sexy pictures, but it is more about the sensuality of being clothed, and the importance that all bodies, no matter shape, gender or ethnicity, have beauty in them. I have always had body image issues due to being overweight, disliking many parts of my body and having been bullied for many years of my life because of my body shape. Taking pictures for Lingerie is for Everyone has been quite empowering for me.
My most viewed lingerie pictures are:
Bottom's Up – An older picture of mine that features, well, my bottom in some lacey knickers.
Masturbate Your Emptiness – A picture in quite an odd but sexy angle, featuring some sheer stockings.
The End of the World (which was also featured in Elust for a whole month) – I wasn't doing well but still felt the need to be sexy, and this was the result.
My favorite three pictures for Lingerie is for Everyone were:
Comfy is Cute – I just really like the way I look on this picture.
Spellbound – I show my whole body, not just parts of it. It was quite a difficult picture for me to take because I usually really try to work with angles to hide to the parts of myself I dislike.
Tree – I absolutely love how my boobs look in this picture.
Lingerie is for Everyone also has round-ups and some of my pictures were featured in those: Coma White, The End of the World, Love in an elevator, Carnival Noir and Cold Period Days.
Gallery of my Lingerie is for Everyone pictures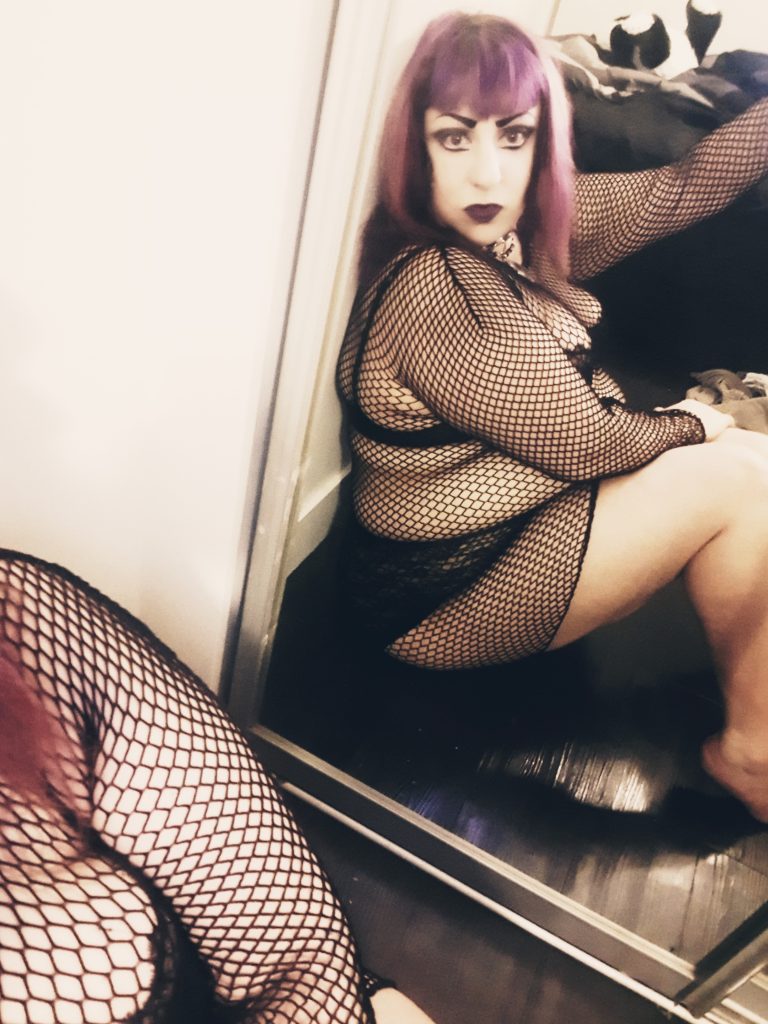 Boobday
Boobday is on hiatus at the moment, which is a shame because I really loved participating in the meme. I have a very complicated relationship with my breasts so it was quite a challenge for me to get over my dislike of my own breasts and take some pictures of them!
My most viewed Boobday pictures were:
Prey – The see-through bra I am wearing really makes my boobs look good. I think what makes this picture really great is the look on my face though.
Lean Back – A very interesting angle on my boobs. Also, there is a stuffie. Pictures with stuffed toys are always fantastic!
Orgasm Addict – I remember taking this picture and feeling all naughty and needy. And that really shows!
My own three favourite booby pictures were:
The Crack Inside Your Fucking Heart – I think I look absolutely beautiful on this picture. I look content and innocent.
Asleep – I love the calmness I created with this image.
Guitar Hero – This was really fun to take! It features two guitar plectrums I caught at a Marilyn Manson concert.
Gallery of my Boobday Pictures
My Writing
The primary reason why I started this blog was to write about sex, about kink and about BDSM. And that is what I did in the beginning. But then, things evolved a bit and now I cover a whole lot of topics, most of them somewhat related to sex, others also linked to other areas of who I am: like my mental and physical health struggles. I have come to learn that a sexblog is more than just about sex, and that people love to get to know the person behind the words. I think that is where it differs a little bit from sex work, where who you are beyond your work is not as important as the job that you do. But when you write about sex, about relationships, and such, people find you more credible if you come across as real, as authentic. It is not about selling a flashy dream, but it is about representing who you really are.
With my writing I often participate in some weekly writing prompts. Sometimes I use them for inspiration, sometimes I write something and I realize that it actually would fit one of the prompts. I have found them very helpful in finding a routine in my writing. I have also discovered many great writers and bloggers through those memes and prompts.
I obviously can't reflect upon all of my writing this year, but I thought I'd look at a few categories and talk about my favourite posts in those.
BDSM and Kink
I did the 30 Days of Submission Challenge which I kind of abandoned after day 27 (not sure why?). I might just finish that one, just because I dislike unfinished business. It was fun to reflect upon the nature of my submission and I feel like I am able to define my submissive self better now.
I participated in the Tell Me About meme by the SafeworD/s club quite a bit, and two of my posts were featured there: D/s relationships and Resets and Kinky Friendships.
I have also written quite a lot about the different kinks that I have, my own sex experiences and my fantasies. Kink of the Week was always a good place for inspiration when I wanted to write about sex and kink related topics.
These three posts were my most viewed in the BDSM and Kink category:
Double Penetration – Double the Fun – A post on my experiences with double penetration
Erotic Humiliation – A reflection on why I love erotic humiliation, what turns me on about it, and what kind of practices I engage in.
Verbal Humiliation – Words can make me wet – I write about why I especially find verbal humiliation enticing, and give some tips on words to use and ways to engage in it safely.
My own favourite posts in this category this year were:
Degradation Play – I find that degradation goes a step further than erotic humiliation, because you are being shaped into something primal and beneath the person you are playing with. And I love it.
Cum Tributes – My Kink! – I love cum tributes and it was really fun to write about how they make me feel.
D/s relationships – Issues and Solutions – I love this post because I have been completely honest about that D/s relationships aren't always stable and functioning, we all run into difficult times.
I can also add that some of my posts about my own sex experiences have been quite well-read and were also in round-ups, like Count To Ten.
Erotic Fiction
I have never seen myself as an erotic writer. I have been writing short stories and poems all of my life, but sex never played a major part in those works. And I think that often shows in my writing of erotica: I need a story, a background, a proper scene, characters with a past and a personality. I sometimes write raw and smutty where I leave all those details out, but even when that happens, I like to focus on the play, the thoughts, the stream of consciousness, and not so much on the actual act. I am quite surprised by the positive feedback that I have been getting for my erotic writing and I think I really need to change my perspective on it all. I am an erotic writer.
I have written a series called Drusilla – Queen of Vampires, which I am still to finish. I really loved developing that character and story! Another fictional series that I have written is that of Auntie Jeanie, an old woman talking about her BDSM experiences in the middle of the 20th century.
A meme that I always try to write for is Masturbation Monday. It kind of gives me the routine to write one erotic story a week. And I have learnt a lot about erotic writing by reading other people's stories! I have been lucky enough to have been featured in the round up for Masturbation Monday, many times! For exampl: Nasty Snow Angel (about piss play and humiliation), An Elf's Sexy Adventure (about a dream in a different reality), Drusilla – Queen of Vampires Chapter 7 – The Ceremony (about vampiric lust), Primal Scream (a retelling of a sex experience), Fiery Torture (a fantasy of group sex), A Strange Encounter (about sex with a succubus), Drusilla – Queen of Vampires Chapter 5 – La Fleur Blanche (taking over a 19th century brothel), The Secret Chest (about a chest filled with delightful tools), Unbearable Need (being a needy sub).
I also sometimes write short erotic fiction for the Friday Flash meme. My favourite shorter stories (under 500 words) were A beautiful stranger, The Flower Shop Window and Dancing Into The Night.
My most viewed erotic fiction stories this year have been:
A Strange Encounter – My succubus story: a man meeting a sexy creature in some abandoned ruins
A Forest – A fateful meeting during a forest walk
The Servant – A service submission erotic tale
And my own top three? Gosh. that is hard, because I have written so much and I really only published the stories I really liked. But here it goes, my top three of the erotic stories I published on my blog this year: Drusilla – Queen of Vampires Chapter 1 – Creation, A Different Kind of Wonderland (Alice in Wonderland erotica) and Closer (an erotic story to the tunes of Nine Inch Nail's Closer)
Mental Health
One of the topics I often write about on my blog is mental health, and mental illness. I have been a mental health advocate and a volunteer in that area for many years. But I rarely had talked about myself in my work. With this blog, things have changed. I have never been so candid and open about my mental illnesses and my struggles. It puts me in a very vulnerable position. But I also see how I would be a hypocrite if I encourage others to talk and write about their struggles but would keep mine a secret. A meme that I have contributed a lot to, and that I find very important is Sex Bloggers for Mental Health, and I am even featured on their resources page.
My most viewed posts in the category of mental health were:
Dissociative Identity Disorder and Relationships (actually, my most viewed post over all) – A very open post about my DID and how it affects my relationship
Wait – Whom Am I? Dissociative Identity Disorder and Sex – How my DID affects my sexlife and makes it a little bit different from how singulars do it
Apologize to Me – A sort of open letter to one of my main abusers during my childhood
The posts that I personally find were the most interesting to write, are:
Sex, Dissociation and Subspace – About the different mindstates that are similar but yet so different in their cause and need
#metoo? – I am a survivor but feel excluded – How the metoo movement actually excludes those that have been through complex sexual abuse during childhood
My mental illness makes my sexlife better – Mental illness can have some positive side effects
I have also written posts on other topics, those that are not related to sex, or mental health. Some of those are on blogging and writing, on human connections and on life in general. Most of them are in my thoughts and reflections category. One post that I want to mention here is I am Fat – On Fat Acceptance and Fat Shaming.
My 2020
2019 has been an amazing blogging year for me. I discovered that I am a writer, an artist, a content creator and that what I have to say, actually matters. I have written over 310 posts, had over 30 000 visitors on my site since March, and I have gathered a following on my blog, my Instagram and my Twitter. I am humbled by the support of my fellow sexbloggers, and by the recognition that I have been getting. I won a New Voice Award, I have been on many top blogs lists for the year, I have been in round-ups and SoSS posts.
I have been featured in interviews, I have collaborated on articles that have been published, and I have been able to contribute to some projects. I have also started doing sex toy reviews and I have affiliates on my website.
It feels like I am still at the beginning of my journey but at the same time, I think I know most of the ins and outs of blogging now. So when I started to think about what I want to focus on in the next year when it comes to my writing and creating, I had to think hard about what direction I want to go into. See, I will never be able to work like a normal healthy person. And being a freelance writer and content creator seems like the perfect way for me to make a living. But I also love being myself and I don't want to give up a lot of who I am, so I fit some small window of what is acceptable.
I have been terribly afraid to pitch ideas to get paid work. I don't take rejection well and the imposter syndrome becomes very real when you look at a blank page and try to come up with something brilliant that someone might want to pay for. But in 2020, I want to overcome this. I am a writer. My blog shows that I am. So I should just go for it. I want to both focus on fiction and articles for online magazines on sex and relationships.
That also means that I need to rework my brand a little bit. I want to redo the layout of my site and make it look more professional. I am constantly updating small things and although I am not the most tech-savy person, I have learnt how SEOs work and the views on my site from search engines are constantly increasing. One thing that I really want to do is to take most of the pictures for my posts, instead of taking other artist's work. I have realized that I love being creative with the camera so this should be fun.
I will of course continue to publish things on my blog. My goal is one post a day and I have almost been there most of 2019, so I think it is a manageable goal. I need to get more organized in my planning, but that is also doable.
I really want to try to be more consistent on social media because I realized how important platforms like Twitter and Instagram are for views and getting people to read my content. So far, I have just done things there when I felt like it, but I need to get more focused in that area.
I have signed up for the Smutmarathon and I have two collaborations with fellow bloggers coming up. I am planning an art project with my pictures (stay tuned!), I want to look up how to create a newsletter (just in case Twitter kicks everyone out) and I eventually want to create a Patreon page as well.
2020 is going to be an interesting and exciting year for me and my blog. I can't wait to see where this journey is going to take me.