Double Penetration – Double the Fun
Double penetration could be described as a mainstream kink. If you scroll through different porn websites, you will realize that it is something that is quite a common fantasy for most people. I think it has a lot to do with someone being absolutely objectified, sexualized, controlled and having them lose their shit. Not literally, hopefully! Let's be honest, it could happen during anal play if you are not properly prepared.
I have fantasized about double penetration ever since I saw my first porn movie. It was a VHS cassette that I found in my parents' collection. I was alone at home and it was an unmarked VHS so I put in the player and oh my! It was one of those two hour long videos with an actual story to it, lots of fetishes and kinks got explored. One of the scenes involved double penetration. I found anal sex already intriguing then, and watching someone get both their holes fucked, that blew me away!
Double Penetration – Solo
Fast forward about 25 years, and I explored that kind of play for the first time. I knew by then that group sex or threesomes would be a no go for me, because of my shyness and body image issues. It was not about moral issues at all. Morally, I am a slut! So I decided to explore it on my own, on cam with my boyfriend at the time. I had done anal play before so I wasn't too worried about how that would go. I focused on positioning myself right, instead. Two hands were needed and I wanted to sit comfortably too.
So I sat on the bathroom floor, naked. A dildo, a vibrator, lube and my laptop were all ready to go. Legs spread and my nether regions pushed forward. Ten minutes later, my boyfriend watched me lose it. I love being watched and objectified. I love the feeling of being minimized to a slut, nothing more than a sexual being. But I really really lost it. The feeling of fullness was so overwhelming, I almost cried. I frantically fucked myself in the butt, in the pussy and oh my, did I look intense! My boyfriend took a few screenshots and I was quite surprised by how primal I looked! And the orgasms I had!
I am one of the lucky people who can have vaginal orgasms. I know that not every woman is as lucky, and you know, for a long time, I didn't know I could go there either. A cock inside me felt pleasurable but penetration alone couldn't get me off for a long long time. Until I realized that it was about angles, and about duration. And these days? I can't even have penetration sex without coming and squirting!
And behold, I can even get anal orgasms! I assume that it has to do with that some nerve ends are just in the right places for me. I discovered the anal orgasm thing many moons ago (Did I just make a pun?!?). At the time I didn't find it particularly odd, until I read up on it and realized that it is not something that most women experience.
Double Penetration with Another Person
Penetrating your pussy and ass alone, with toys, is one thing. But double penetration together with another person, in a D/s and BDSM dynamic, that is a whole other level of awesome! Master S and I discovered that just the other day. He had said more than once that he loved seeing my ass all open and ready when he was penetrating me from behind and but that there was never enough time to prepare my butt for play when we were into it already. We are too horny!
So anal play has not been a staple in our sexual play yet. It has happened occasionally, and I quite liked it. Naturally. It makes me come after all. So he knew I wasn't averse to it. So the other day. I was sitting on the sofa, he was sitting on his chair, and we were both engulfed in reading. I felt the need for a kiss come up, and I seductively (probably did not sound seductively, but let's just for the sake of it, pretend that it was!) said: "Daddy, Daddy, can I get a kissy?". And a kiss I got!
A minute later he was sitting on my legs in front of me, my boobs were exposed and he was humiliating me by slapping my tits with his hard cock. A little bit of hair pulling here, a little bit of nipple torture and hand on tit slapping there, and off into fuck-space I went! Before I knew it, I was on all fours on the bed, butt up in the air, his hard cock inside me.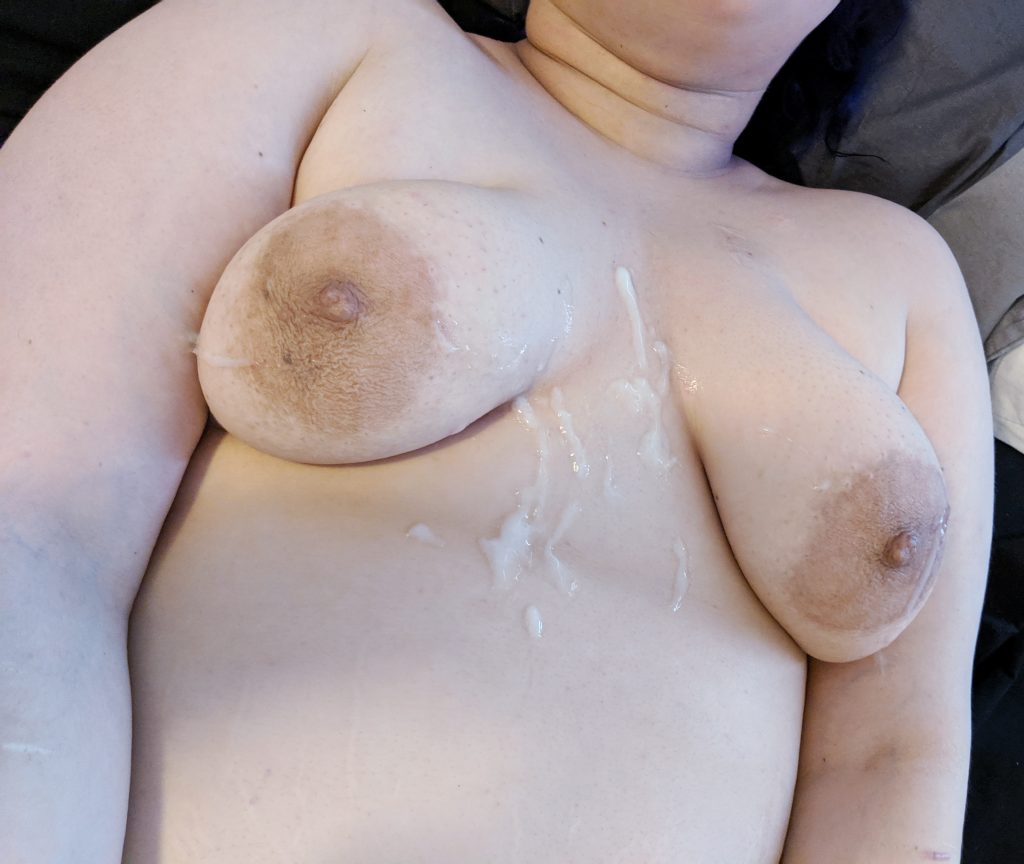 He suddenly stopped and told me not to move. I heard him open the lube and squeeze some of its slippery goodness out. He continued to fuck me, and then slid a finger inside me, moved it around slowly, and pushed it in deeper and deeper. A second finger, and a third finger joined the party. He was fucking me both with his cock in my pussy, and his fingers in my ass.
And then he stopped again. Another lube squeeze and I felt something bigger, longer, wider and harder enter my ass. First just the opening, then deeper, and deeper and deeper. He had fetched my silicone dildo! He was now moving it in and out, and started to fuck my pussy with his cock again. The rhythms synced, sometimes he just left the dildo inside me and fucked me so hard with his cock, that the dildo was pushed in harder and harder.
How did it feel? It felt amazing! I felt so full, so lost, so owned, and absolutely fucked. It took my breath away and it slowly turned into a whimpering horny mess. The orgasms were fantastic (especially when he managed to rub my clit at the same time, too! Coming in three places at once is bliss!). But the feeling of being owned, pushed towards my limits, used, filled up and turned into a sexual toy? That was the best of it all.
After about 20 minutes of that kind of penetration I was close to passing out. I really had trouble staying present, subspace had taken over long ago, and the orgasms had drained my body. I had turned silent, I had become the perfect sex toy. Turned on my back instead now, I gave him a handjob and allowing him to use my chest as his cum dumpster. I love being humiliated sexually like that, feeling his hot seed landing on my naked skin. It makes me come every time, even if nothing else of him touches me.
My Advice?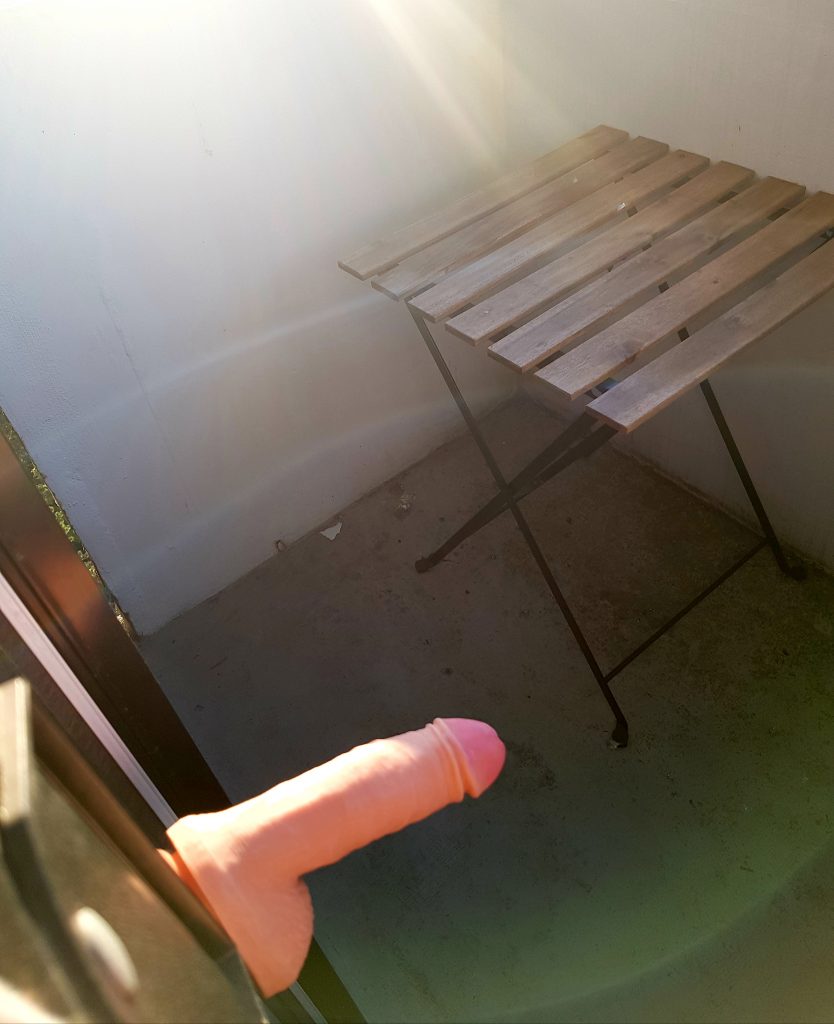 I am not an expert on double penetration, but there are maybe a few things to keep in mind! It is about comfort level. Some people can not relax enough to have anal play, and it can take a long time to prepare. Lube is needed because the anal tract does not lubricate itself, however horny you are! Try with fingers and smaller plugs first before going all in!
The feeling of fullness and being used could become uncomfortable for some as well. Just be aware of those kinds of things before starting. It is okay to use the safeword, and especially so if you are trying out double penetration with more than one person. You could try it out on your own first, using anal plugs, different dildos, and trying out different sizes. Do not get shocked when you can actually hear your toys touch each other. There are places inside you that are separated by only a very thin wall!
Oh, and from personal experience: if you use a silicone toy, remember to put a condom on it so it doesn't suck in the butt smell! That kind of smell can be difficult to get rid of, and well, yes, this is where my dildo ended up, after washing only cleaned it, but didn't remove the smell! Learn from my mistakes!