Dancing into the Night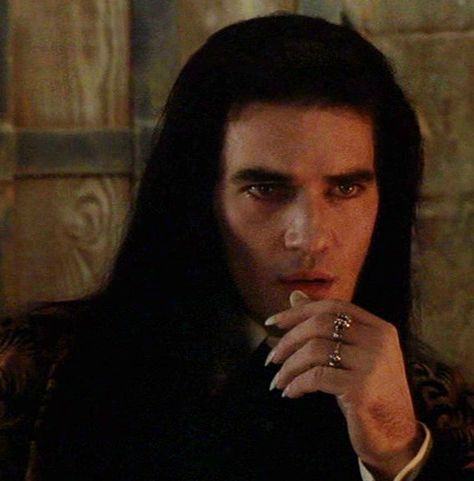 "Bela Lugosi's dead, undead undead"
The famous goth anthem was playing when I entered the club. This Saturday's debauchery happened in the local World War 2 left-over underground bunker. The place's atmosphere fit tonight's theme perfectly. I entered the main room, adjusting my corset and trying to avoid stumbling in my high heels. I had come to see him. My eyes scanned the room, and there he was, on the dancefloor, his long black hair waving to the rhythm of the music. His pale skin was reflected in the flashing lights, his black velvety clothes embracing his tall and androgynous shape.
"Bela Lugosi's dead, undead, undead"
Our eyes met. His grey eyes were accentuated by a hint of eyeliner and almost cat-like, seemed to look at me like prey. I shuddered of excitement. He had finally noticed me! A finger with long nails painted in black nailpolish gestured me to come closer. I walked onto the dancefloor, past the dancing crowd, to the far away corner he had chosen to be his spot. I was under his spell.
"Bela Lugosi's dead, undead, undead"
I stood in front of him, his eyes still devouring me. I started breathing heavily when he took my hand, whispered "Come with me" into my left ear and gently pulled me off the dancefloor. He opened a door and it felt like we were now in a labyrinth of catacombs. We passed vaults of stone, metal doors and lit candles on the walls. I could still hear the music playing.
"Bela Lugosi's dead, undead, undead."
I saw a table, his destination. Without a word, he lifted me up and made me sit on the edge of the wood. I was surprised by his strength and touched his suddenly seemingly muscular arms. "Are you ready to let go and fly with me?", he whispered in a dark voice. "Yes!",I said. "Mmmm", he hummed and looked me in the eyes. There was something almost primal behind his windows to the soul.
"Bela Lugosi's dead, undead, undead"
His long nails tenderly stroked over my almost exposed breasts. He spread my legs with his other hand, pulling down my panties. Nails going over the inside of my thighs, going over the skin of my breasts. His face was buried in my neck, I could hear him breathe in my scent. One nail scratched me, hard. He moved his head over and licked the wound, looking up to me, his tongue covered in streaks of my blood.
His pants were already dropped to the floor and with one heavy push he had entered me. Oh how I had yearned for this moment for so long! His face was buried in my neck again, his hands pulling my hair. I moaned as I felt two strong pinches on my neck. I gasped. I could feel my blood pumping. I could feel his hard manhood piercing me. I felt like flying, flying with him into the night.
"Bela Lugosi's dead, undead, undead"