My Top 20 Sex Blogs of 2019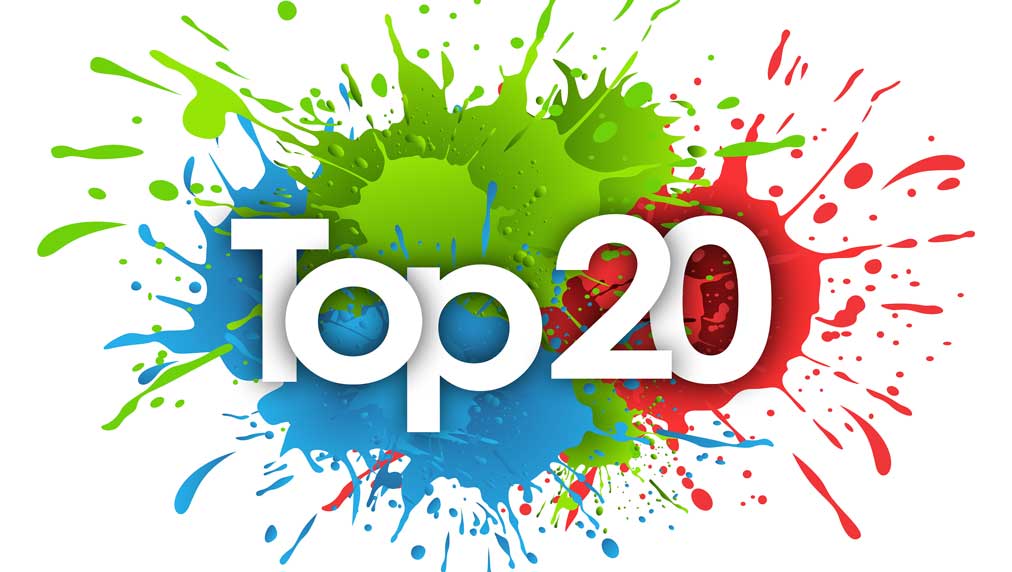 I am quite new in the sexblogging community but I already feel very much at home among those who decide to write about kinky topics, who share their artful pictures, who discuss difficult subjects and who won't let themselves be silenced by the prude moral police of the internet. I have made some great friends, read many interesting posts and learnt a lot about sex, kink relationships and D/s. And more often than not, I have been inspired to try out new things in the bedroom and my relationship, to think deeper about topics I had never given much thought before, and I have definitely become more open minded.
I have been fortunate enough to be included in some of the Top Sex Bloggers of the year awards and lists. It was quite a surprise to me because I only started my blog 9 months ago and I feel like I still have a lot to learn. It is definitely a great motivation for me to continue to write, to reflect and to work on the content I get out there.
So I decided to follow the lead of many other bloggers in the community and share a list of the blogs and bloggers that have inspired me most this year. My list is very subjective, and doesn't follow any strict guidelines. Instead, I picked those blogs that I really enjoy reading, that leave me in awe, and that are different. I like those that are themselves, that are raw, honest, creative and that bring something different to the table.
New Blogs to Check Out
But first, let me introduce you to four blogs that I have recently discovered and that I see as rising stars in the blogging community. They are all quite different, in their own way. They come with new and fresh perspectives and I really can't wait to see what they have in store for us in 2020. Check them out!
The Wench Works (Twitter) – Wendy is a POC lesbian woman who writes about sex, kink, polyamory, her D/s lifestyle and the occasional sex toy review.
Bambi Biohazard (Twitter) – A fellow goth who writes about BDSM and kink, sharing her experiences in the scene, and reflections around different kinky topics.
MLSlavePuppet (Twitter) – A lesbian who identifies as a slave and writes about submission, D/s, sex and shares wonderful pictures.
Gristle – Naomi is a 81 year old woman who writes about sex and romance, and continuing to discover who you are even later in life.
My Top 20 Sex Blogs Of 2019
Now let's take a look at who has inspired me the most in 2019. The list is in no particular oder.
Molly's Daily Kiss (Twitter) – Molly is my role model in the sex blogging community. Her posts come across as authentic, honest and sometimes very raw. She doesn't shy away from any topic, and expresses her opinions and reflections very eloquently. And her pictures, jeez, her pictures. Not only does she take extremely sexy images, a lot of them have more to them than just a pretty exterior, they have depth. I am very impressed by how someone who is so involved in the community, and who works a lot, still finds the time and energy to publish excellent posts on a regular basis.
If Sex Matters (Twitter) – May is about the most supportive person you can imagine. I have learnt so much from her and I have been in her DMs more than once, asking silly questions. But not only that. Her blog is extremely personal and open. She shares personal experiences and very sinful images that keep you wanting more. Her voice shines through so strongly in everything she creates. May's erotic stories are quite different from what you'd usually expect from the genre: she combines character development, erotic encounters and story lines perfectly.
Jupiter's Lair (Twitter) – I remember the first time I ended up reading one of Jupiter's erotic stories and I was absolutely blown away by the way she uses words. She often brings you into the sexiness right from the start, and keeps you captivated with luscious descriptions of sexy action up until the end. She is the queen of words! So if you want to read exquisite erotica, Jupiter's Lair is the place to find it. She is also fantastic at taking teasing images and reflecting around topics like relationships, sex and mental health. Jupiter is my sister in smut and I love being on this amazing journey together with her.
My Controlled Ascent (Twitter) – Kisungura"s blog was the first sex blog I read and it is still one of my very favourite blogs to return to. Her level of creativity is amazingly high. The erotic stories are often dark and twisted, and exciting to read. And Kisungura's pictures are some of the best ones you can find out there: they are artsy, creative and very very sexy! When she reflects around her D/s, her needs, her mental health and sex, it often makes you feel like she opened up her soul to you. Kisungura knows how to use words effectively and reading her work, makes you feel. There is no better compliment for a writer.
Submissy (Twitter) – Submissy is one of the most industrious bloggers. The quantity of posts that she puts out there doesn't take away anything from the quality of their content though! She mostly writes about D/s and BDSM, and I have learnt so much from reading her blog. She reflects upon her relationship and sex mostly, but she also sometimes publishes things that are more reflective around other things. She is definitely fantastic with words, and her strong voice can be seen in all her posts. She is also an expert at taking very sexy and creative picture that often leave me in awe.
MxNillin (Twitter) – This blog has helped me understand a perspective on sex, relationships and anything inbetween that is different from mine. Not only have I learnt much by reading their posts, their words will make you tingle in all the right places. They are a queer andro-babe with a girlcock who talks about polyamory, how to navigate in a world full of queerphobia, mental health, body image, the ups and downs of polyamory, and some wonderful sexy times. Everything they write is accompanied by some pretty awesome pictures and a strong sense of who they are.
Rantings of a Nonsensical Mind (Twitter) – JLynn is someone who often makes me nod. Her perspectives on sex and relationships is a bit different from mine, but the emotions she expresses are something I can very often relate to. She writes about being in a FLR with her pet, about life, mental health, sex and polyamory. Her posts are often entertaining and deep, and they always come from a place of honesty and vulnerability. And her pictures? They have a quirky element to them, they are often teasing, and very very intriguingly sexy.
Violet Fawkes (Twitter) – Violet Fawkes is definitely one of my favourite bloggers out there. Her erotica is exquisite and the way she works with words is impressive. Honestly, there is a flow to her posts that I have not seen in anyone else. Whenever she reflects around topics of sex, D/s, BDSM, mental health, body image or relationships, there is a raw honesty in there. You can hear her voice strong and clear. I also adore the creativity and sexiness of her pictures, the candidness in her sex toy reviews and I am a huge fan of her project Lingerie is for Everyone. I can sense a kindred spirit in Violet, and I look up to her so very much.
Rebel's Notes (Twitter) – Marie is one of the bloggers that I have learnt most from this year. Her industrious and organized nature has guided me into making my blogging more productive and easier to comprehend. Her reflections around sex and her current D/s have been so refreshing to read this year. She is honest about how life, age and disability can make sex and a functioning D/s difficult to navigate, but definitely possible to succeed with. Her erotica has a touch of class to it, with proper settings and quite naughty sex scenes. I also immensely enjoy her photography and I can't wait to see what she can create in her photo studio.
Francesca Demont (Twitter) – Francesca has an interesting perspective to offer: the point of view of an escort submissive who has seen it all. She is very honest about her past, and also very reflective about what her past means for her present and future. She writes erotica that is intriguingly hot, she discusses anything from relationships, over kinks to sexual fantasies. She is a huge lover of latex and a lot of her posts have given me an interesting insight into that fetish. Her photos are classy, yet sexy, and her body definitely is made for all the wonderful latex items that she owns. She has a strong and straight-forward voice, something that I find very refreshing.
Little Switch Bitch (Twitter) – LSB is someone who naturally seems to be able to reflect upon things and it makes sense right away. The focus of the blog seems to be on toy reviews and pictures, but I also very much enjoy reading LSB's reflections upon sex and her relationship. Her reviews are entertaining to read and I have more than once chuckled about witty descriptions. Her pictures tell a story, in a very raw and beautiful way.
Purple's Gem (Twitter) – PurpleSole and littlegem keep on blowing my mind with their absolutely incredible pictures. They create art together and I love how much they have progressed in their skills. Their reflections about sex, BDSM and D/s, coming from both submissive and dominant perspectives, often make me think. They are educational, inspiring and also honest. If you are looking for great pictures and interesting takes on D/s and BDSM, this blog is definitely for you!
Posy Churchgate (Twitter) – Posy's blog is a space of warmth and erotic musings. I love her erotica which often has luscious descriptions of very sinful encounters. She is also a very encouraging member of the sex blogging community and interviews fellow sexbloggers and features them on her site. I love that she has started to be more engaged in taking pictures of herself in lingerie and naughty poses. She is a fantastic model and has a great eye for angles and outfits that fit her perfectly.
Master's Musings (Twitter) – Okay, this might seem like nepotism because this my Master but I can't not have him in my top 20. Not because he is my partner, but because I think he is an incredible writer! His erotica is different from anything I have ever read, it is more in the mind than it is about describing sexual encounters. And I am very impressed by his picture taking abilities. It is not easy to be a successful sexblogger if you are a dominant cis-man, but I think he has been doing a fantastic job and I am really excited to see what he can create in the future.
Master's Pleasing Bitch (Twitter) – Julie's blog has impressed me in many different ways this year. She is very good at discussing the real truths of a D/s relationship, the ups and downs, the good things and the things that constantly need to be worked on. I also love the honesty in her pictures, the raw discussions around body love and body acceptance. Julie is someone who has many qualities that I aspire to acquire as a submissive, and her strong voice can not be missed in the blogging world.
Sweetgirl's Journal (Twitter) – Sweet writes about her relationship with her Dom, BDSM, D/s, chronic pain and many different topics she picks up along the way. I love that she is so very consistent with her blog and she always has something to say about any topic offered by different prompts. Her pictures are just as alluring as her writing, and I must admit that I have quite a lot of boob envy when it comes to her. Her supportive and caring nature really shines through in everything that she shares.
On Queer Street (Twitter) – Quinn Rhodes offers a perspective on things that is different to mine, but it is not only their point of view that draws me to their blog. They write about BDSM, about being queer, about relationships and different struggles surrounding those topics. I love the candidness in the descriptions of sex, of erotic humiliation, of masochistic needs and giving up control. There is not a post that I don't love and most of them make me think about my own life, needs and perspectives. I love people who can make me think!
Bluesubmission (Twitter) – Blue is an amazing erotic writer. I don't ger easily turned on by written stories but hers often make me tingle in all the right places. I also love reading about her sexlife, her D/s, her rope play and her adventures in polyamory. Her pictures are amazingly impressive each time: beautifully captured rope play and suspensions, intimate moments shared with partners, nudity in nature. Blue really has it all on her blog and I am a massive fan!
Liz Black (Twitter) – Liz has been on my radar for a while and I feel like she has massively grown. She is not shy to share an opinion about D/s, sex, kink and relationships. She is very honest, and very strong in what she thinks and needs. She also writes about different aspects of life, like mental health. And I love getting to know her through her writing, as she seems to be a very caring and intelligent woman
Floss Does Life (Twitter) – What is there to say about Floss' blog that has not been said already? I mean, she is the Number 1 of the Top 100 Sex Blogs for a reason. You can see how she has put her heart and soul into her blog. She covers everything from sex, kink and relationships. She writes immensely arousing erotica and takes incredible pictures. Everything on her blog seems like a work of art with a lot of thought behind it. I also quite enjoy her honest reflections about things other than sex and relationships, because you can see a different and more private side of her in those.
That's it! Here you have them, my top 20 sex blogs of 2019. I don't have any fancy banner that you can share on your blogs, but I hope that you all enjoyed reading this post nonetheless!