Sliding in the Darkness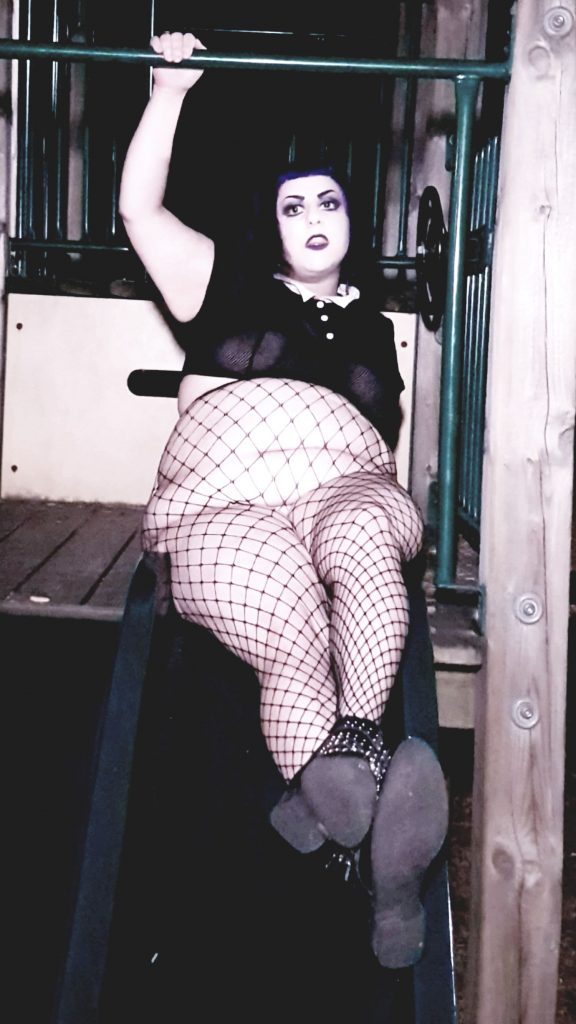 Goth nude on a slide? Here is probably something that you never thought you'd see! Playgrounds are grounds for play, no? We had an interesting night the other day, taking a walk in the darkness. We ended up in a park with a playground. I used to love playgrounds as a child, especially climbing up things. So I couldn't stay away when I walked past this place. I am usually not into climbing anymore but I couldn't stay away from it this time. No one else was around, so who would care seeing me making a fool of myself?
It was not as easy as you'd think, to take a sexy picture in public in the dark. There were often people passing by, or cars shining their headlights onto the playground. It was all about finding the right moment, still looking relaxed. and taking a picture that was not too dark, without the red eyes caused by the flash. I really need to plan these things more, so I can wear clothes that I can just quickly get rid off and put on again. You live and learn! And hey, this could be a lesson for anyone else who wants to take pictures in the dark on a playground!
Those slides are definitely not made for fat goth chicks, but I still had some fun climbing around and getting a bit naughty! This is my contribution to this week's Sinful Sunday. Sliding in the darkness. A nude goth on a slide. Somewhat of a rarity but probably interesting enough to catch someone's eye. I wonder how many eyes actually spotted me that night. If only I was an exhibitionist and not an anxious mess when there is a risk of other's seeing me undressed in a public place.