Happy Helpless Puppet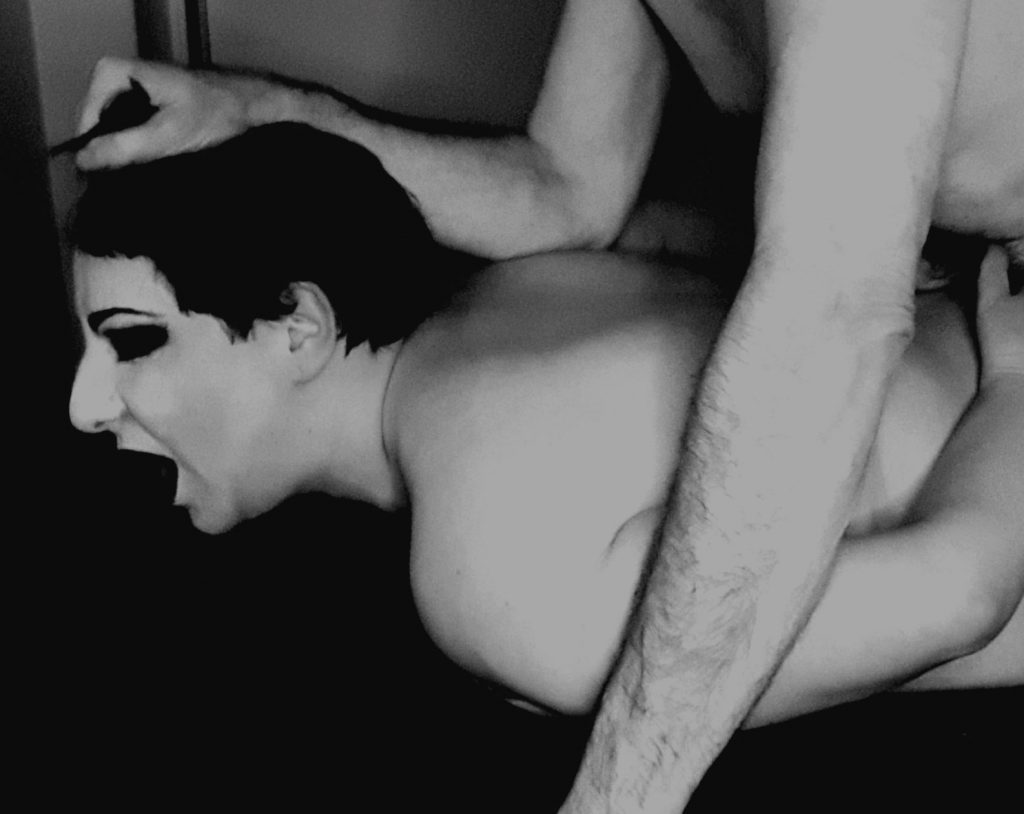 I am just sitting on the sofa. It is one of those moments when you don't think about anything in particular, you don't do anything particular. You exist but you are static. And then I feel his eyes on me. I look up and smile. He has been working all day and I have tried to stay fairly quiet. Having him around is nice, having him around feels safe. Lately, our connection has been more about the inner experiences than any carnal passionate endavours. Sometimes life is that way. You wouldn't mind the fucking. but you are also okay with the calm, with the tender, with the day to day togetherness.
The look in his eyes is different. He doesn't want to come over and hug, he doesn't want to talk about his day, or discuss dinner plans. There is this spark. I haven't felt sexual in a while. But that spark, that look. I hold my breath. I know what to expect now, but I also don't know what exactly is going to happen. And I am lost in his eyes. Just with that look, he has me spellbound. I know what is expected of me. And I want to give him what he needs. I am happy that he craves my submission. I crave his dominance.
He walks towards me, looks down on me. I look up. He grabs my hair. I can't move my head. He is in control of me, and I am still, anticipating, excited. "I love seeing how easily I can put you under my spell, puppet." He smiles and pulls me up by my hair. For a few seconds, we are both standing. Not moving. We are in our bubble, together. Without saying a word, he turns me around and grabs my shoulder. His fingers dig into my muscles and skin. I squeal. He pushes me slightly forward. I know where I am to go. He doesn't need to tell me.
When I get to the bedroom, I silently take my clothes off. He is behind me. I can feel his eyes wandering down my back, my ass, my legs. I hear him walking towards me, and he embraces me. His hands rest on my boobs, holding them. I hold my breath. I expect pain, I expect tenderness. But, I also don't know what exactly to expect. But I know what he expects of me. His fingers tighten around my nipples and he presses. I hiss from the sudden pain but slowly lean into the sensation when he starts pulling. I can feel his breath on my ear, I can hear him getting excited.
He pushes me slightly down and I climb on the bed, on my knees, my butt up, my legs slightly spread. And I wait. I hear him unbuckling his belt, his pants falling down to the floor. I expect him to be on his knees behind, to push inside me. And I am ready. But I also don't really know what to expect. I listen, I sense. His hands are on my hips now, squeezing my flesh. The sharp pain makes me squeal and try to crawl away. But he keeps me in place, his grip becomes stronger. I resign myself to him and stay put.
He pushes my face onto the pillow. I feel his hard cock resting on my butt cheeks. I want him inside me. And I want to be his fuckdoll. I want to be nothing but a thing to be used by him. He pushes my shoulders down and pulls my legs back, making my fall onto my stomach. He lies on top of me now, his nails dug deep into my earlobes. "Fucktoys don't move. puppet. Remember that."
I don't make a sound. I am going to be a good toy. And I am going to be what he wants me to be. He pulls my cunt open and pushes his cock in. I try to spread my legs to make it easier for him. "Be a good toy, puppet. Don't you dare move!" I let go. I let him be in control of my body, of me. He pushes my legs together, his cock still inside me. And he rests his upper body on me. He forces my hands on my back and tells me to keep them there. He grabs my hair, pulling my head up. I scream because it hurts. I scream because I am helpless. I scream because I am loving it.
His hands in my hair to keep his balance, I can feel him move in and out of me. I am moaning. The sensations are taking over. I can feel his hard cock, his strong hands, his dominance, his power over me. I am nothing but a helpless fuckdoll, to be used by him. He is fucking me harder and harder. "Good puppet." he whispers into my ear. I moan. He pulls my hair harder, fucks me faster. I can hear how wet I am, I can smell how wet I am. And I am waiting for his warm seed to be spread inside me.
He growls, releases my hair and my head falls onto the pillow. He pulls out of me and I can feel his cum landing on my butt. I love the sensation. I feel marked, owned, degraded. He kisses my shoulder. "Good girl. My perfect sexdoll." I grin.
If you want to see more naked and sexy pictures of me, and videos too, then head on over to my OnlyFans. There are whole photosets, snapshots, videos and clips. All the artsy, sexy, kinky and explicit stuff that you can imagine. Just click here and subscribe! I know you want to!