Yo Ho, Me Hearties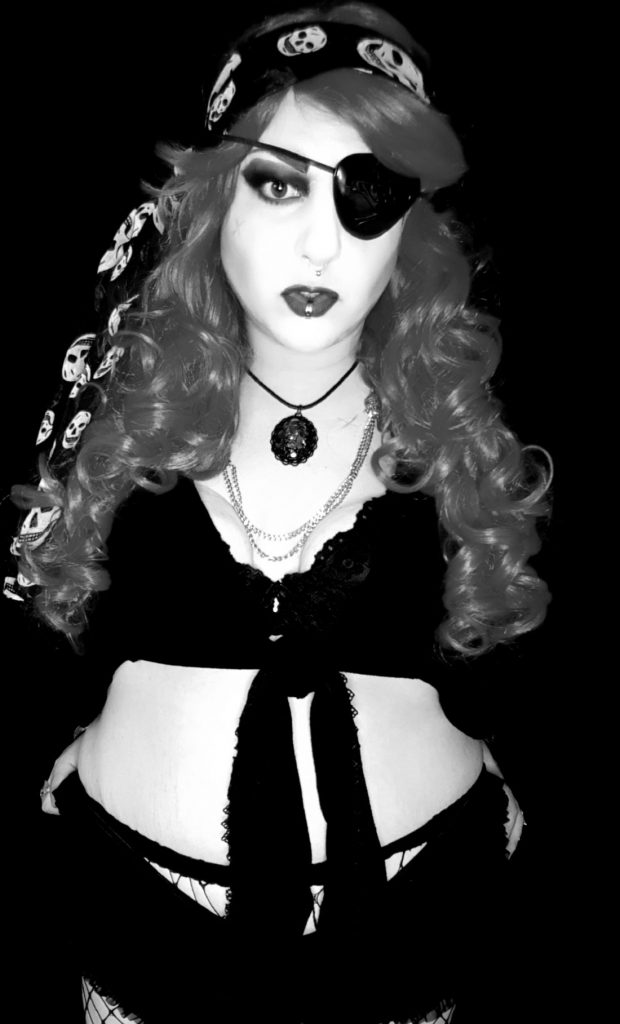 Yo ho, yo ho, a pirate's life for me.
We kindle and char, inflame and ignite,
Drink up me hearties, yo ho.
We burn up the city, we're really a fright,
Drink up me hearties, yo ho.


We're rascals, scoundrels, villains, and knaves,
Drink up me hearties, yo ho.
We're devils and black sheep, really bad eggs,
Drink up me hearties, yo ho.

"A Pirate's Life for Me" from the Pirates of the Carribbean movies
I usually don't like dressing up in any elaborate "costumes" because I like there to be a little bit of me in what I wear and what I represent. A goth pirate seems to be the perfect compromise and as I (incidentally haha) had all the right things at home for an outfit like that, I gave it a go.
I made the picture black and white for the Monochromerotic prompt and it does look a tad darker than the original, the vibe changed a bit. The wig is actually an orangey red, and the piercings do show better in the original. So if you want to check out the original, I shared them on my social media (and lots of different pictures and videos with this look will be shared on my OnlyFans too!).
So yo ho, drink up me hearties and let's raise our Jolly Roger!
If you want to see more naked and sexy pictures of me, and videos too, then head on over to my OnlyFans. There are whole photosets, snapshots, videos and clips. All the artsy, sexy, kinky and explicit stuff that you can imagine. Just click here and subscribe! Yes, I know you want to!