Needy Slut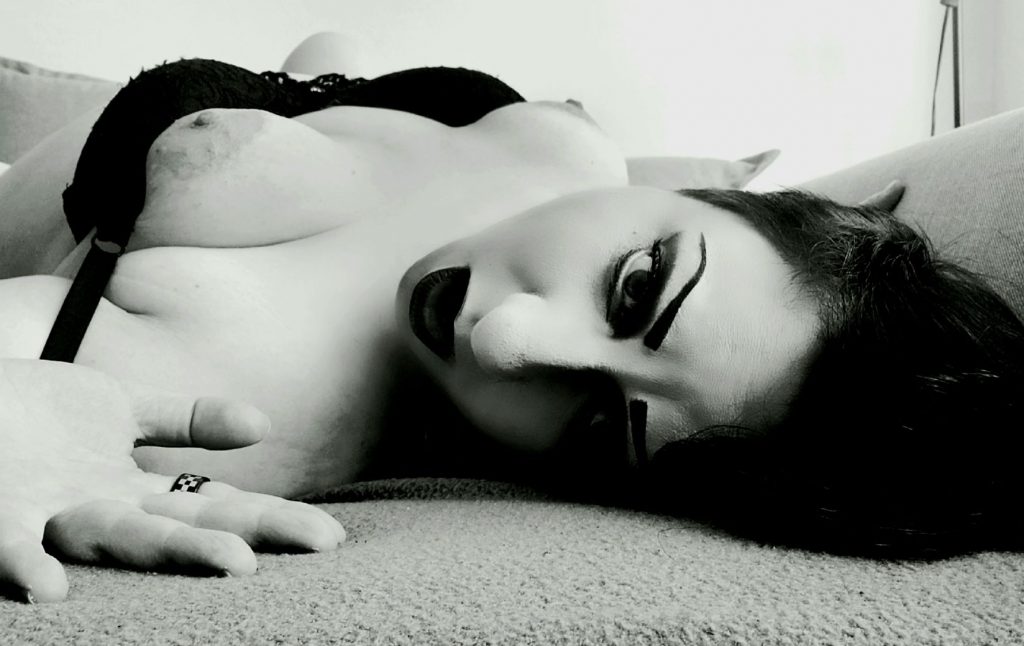 I had been restless all day, and now with him at work, all I could think about was touching myself. An urge very unlike me, an urge I hadn't felt in a while. So after a long hot shower, I was relaxing on the bed, watching porn on my phone. It didn't take me long to find something I'd enjoy and the wand did its thing. But it wasn't the same. No one was watching me, no one was touching me, no one was pounding me. Disappointed but more relaxed, I got up and looked at the clock. Another two hours and he'd be home. The restlessness hadn't settled.
I checked the time every few minutes, almost counting down the seconds until he'd open the door. I hated that he had to work in the office. He's nearly always at home, and the one time I actually really wanted to fuck, after so many months of a dry spell, he wasn't around. I felt frustrated. Horny, needy and frustrated. Masturbation is all nice, but fuck, I needed to feel him close to me, his presence with me, his hands on me. I wanted to listen to his voice and watch his body react to my submission.
Finally, I heard the key in the lock and the door opened. I froze. I didn't know how to make him understand that I wanted to have sex. And I knew I was absolutely useless at communicating my sexual needs right when they happen. I watched him remove his mask, wash his hands and put the kettle on. I didn't say much. He came over to kiss and hug me and I pressed my body against his. A little harder than I usually would. He paused, looked at me with a cheeky smile and said "Ah, I know what you want!" .
Seconds later we were on the bed. He was pinning me down, and looking at me. "Well, look who is horny today." I grinned. I couldn't believe that he could read me like that, that he understood what was going on just because I hugged him a tiny bit harder. He pulled down my shirt and gently bit my nipples. I squealed. I didn't expect the sensation to be that strong. Now he was the one grinning. His hand slid into my knickers and he squeezed my cuntlips together. It hurt. It made me relax. Three of his fingers pushed inside my cunt, and he spread them, spreading my cunt with them. I tried to get away because the feeling was uncomfortable, but he was resting his head and chest on my belly, hugging me and pinning me down at the same time.
So I breathed out. I couldn't get away, and I didn't wan to get away. I floated in the discomfort. He pulled my lips apart with his teeth. I froze. Was he going to bite my clit? I panicked and focused all my energy on trying to read his movements. No. He was getting up, his eyes closed, he opened the zipper of his pants. He grabbed my hair and pushed his half-hard cock into my mouth. I was surprised by the sudden movement and gagged, which made him laugh. "Too much for you, greedy puppet?"
I relaxed my mouth and throat and now enjoyed the movement of him pushing in and pulling out. The rhythm was almost hypnotic. He pulled my head back and pushed his tongue into mouth, kissing me passionately. Then he crawled around me and removed my knickers. He was holding my legs up by my ankles and I closed my eyes. I knew what was going to happen and I was anticipating the feeling of his cock entering me. I had been waiting for this all day long. But then he let go of my ankles. Confused, I opened my eyes and watched him get up, fetch the finger vibrator and some lube.
He switched the vibrator on and placed it on my clit. I groaned. It only took a few seconds, and I had an orgasm. He was observing me, his eyes squinted, his face showing that he was both amused and aroused. He pushed his hard cock inside me and continued to use the vibrator on me. I was so overwhelmed by my arousal, that I felt myself slipping into a space where all I was, was a sexual object. Something to be played with, something to be used.
He took the vibrator off my clit and wanted to focus on fucking me. I looked at him. He laughed and handed me the toy. I slid it over my finger and started rubbing it on my clit while he was fucking me, holding onto my ankles. And I was coming, over and over. I was frantically rubbing while enjoying the fullness of his cock inside me.
"Oh you needy slut. Don't mind me looking at you getting yourself off, eh?" I cringed. And I wanted to hide my face. I was ashamed, yet even more turned on. I tried to turn the toy off, but he stopped me. "No, I didn't tell you to stop. Continue, slut!" I came again. His cock was getting harder inside me and moments later, his hot cum was covering my belly. But he didn't let me stop masturbating. He was sitting cross-legged in front of my spread legs. He observed me. "No shame, eh? Getting yourself off, with my cum on you. It is what good whores would do." I wanted to hide. But I also couldn't stop, I was so horny, I thought I was going to explode.
He pushed four fingers inside of me, and then in and out, in and out. I sat up now, my mouth open, my eyes closed, my whole focus on my cunt. And there it was: I screamed in pleasure and discomfort, the vibrator on my clit getting too much, his fingers spreading too hard. Waves and waves of pleasure were running through me, my whole body twitching. I fell back. I turned the vibrator off and tried to breathe normally. My Master leaned over to me, kissed my forehead and said: "Thank you for the show, puppet." I cringed and grinned.