His Anal Slut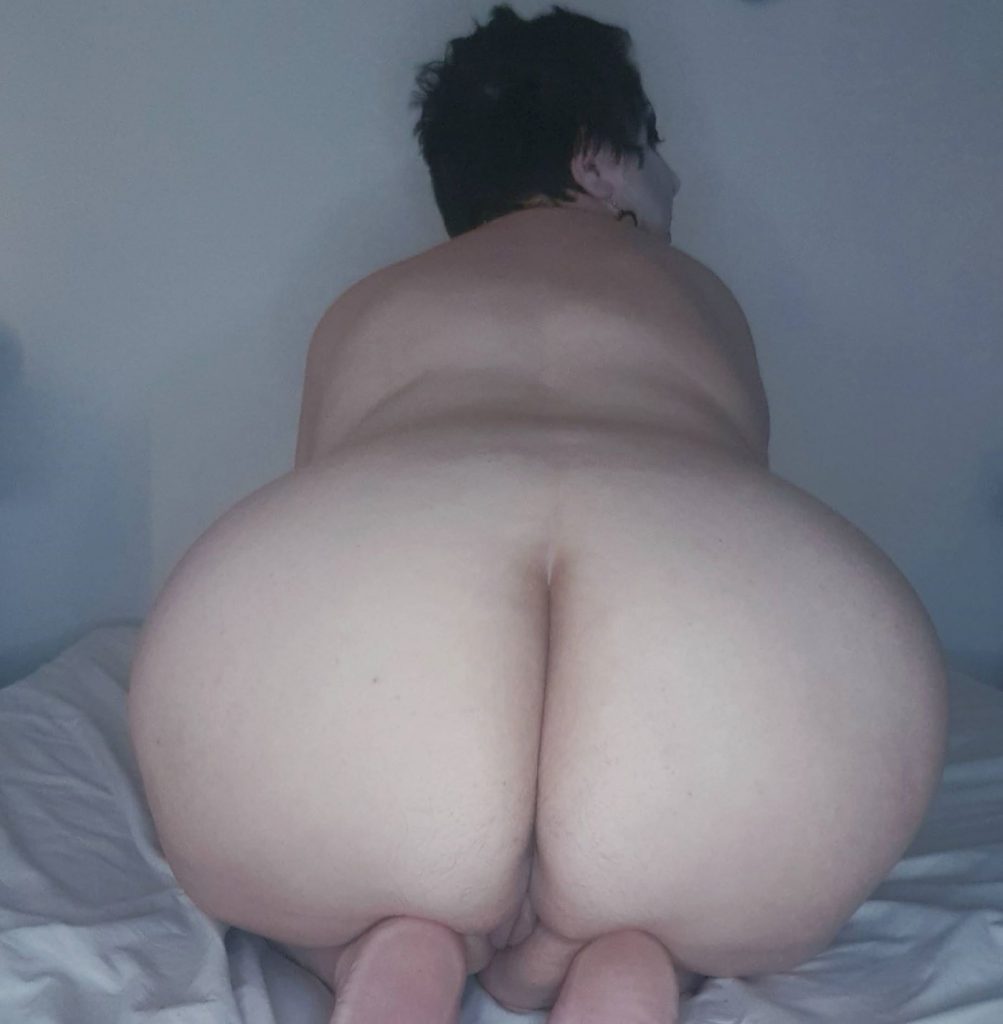 I'm twiddling with a new sex toy, pressing buttons and trying to understand how to turn the small wand on. I have just taken some pictures and remembered that I haven't really tried out the toy much. I am intrigued and don't feel averse to getting off. My Master's head pops up in the door. "What are you doing, puppet?" The buzzing sound must have stolen his focus as he was doing some equations on his computer, last I checked. I smile. "Well, I have to write a sex toy review and I need to have tested this thing." He looks at me. "Need some help with that?" I grin. The only thing better than masturbating with a wand, is when my Master uses a wand on me.
I lie back, my head on a pillow and spread my legs. I don't expect a full-on sex session. I'm not even feeling particularly horny. I just want to try the toy so I can write a review that is based on real experiences. He puts some lube on the wand and presses it against my clit. I sigh and close my eyes. Yes, this is nice. I move my hips in the same rhythm he moves the wand around on my cunt. "You really enjoy that, puppet, eh?" – "Mmm. Mmm." I can feel the orgasm build up pretty quickly, and when he presses the button one last time and the vibrations are on the highest setting, I moan and then let the waves of relief run over my body.
I open my eyes. He sits next to me and is pulling his pants down. "You look so pretty when you come, you made me horny." I see the bulge in his boxers as he pulls them down. I get excited. He is on his knees in front of me and hands me the wand. "Play with yourself, puppet." He pulls my legs up, holds onto my ankles and pushes inside me. I moan and enjoy the sensation of being filled up. "I said, play with yourself!" – "Yes, Master." I turn the wand on, open my lips with two fingers and push the toy on my clit. The sensation is a bit overwhelming because I just had an orgasm but I continue and start to enjoy the vibrations again.
He fucks me, slowly, while watching me come over and over. My cunt twitching, each time almost pushing his cock out of me. "Horny little puppet." He moans. "Turn around and on your knees. And don't stop playing with yourself." He pulls out of me and observes me. I quickly do as told and push my ass into the air. I try to reach my clit with the small wand but in that position, find it almost impossible. "Can I get a bigger wand, please, Master?"
He gets up, and I watch him walk towards the wardrobe, getting out some toys and putting them on the bedside table. He is in no rush and squeezes some lube onto the head of a bigger wand and hands it to me. I switch it on and place it on my clit. The vibrations are much stronger than I had expected and I almost jump up. His hands on my ass, he pushes his cock back inside me.
He holds onto my hips and fucks me. I can feel the head of his cock hitting against my cervix, and it hurts. I squeal. "Aww, too much for you?" – "No, Master, I am fine!" I come again, this time harder than before. I love when he teases me like that. And I want to take more for him. I want him to see what a good puppet I am. He fucks me so hard, I have a difficult time keeping the wand where it is supposed to be. My head is on the bed now, it has slipped off the pillow.
I feel a finger play with my asshole, while his other hand is busy slapping my ass. A new need arises in me. He is squeezing my cheeks, holding onto my hips, slapping me, pulling my hair. I am his now. I don't move anymore, I take. But the need gets stronger.
"Master, can you please fuck me in the ass?" He stops what he is doing. I hold my breath. I don't like asking for things. It is not my place to ask for things. But I so very much want to feel his hard cock inside my ass now. "Having requests now, are we?" I swallow. Maybe I shouldn't have asked. I feel his cock pulling out of me. I turn my head around but he points with the finger on to the bed. And I put my head back down. My ass in the air. Anticipating. Not knowing if he is going to stop now because I asked for something. Or if my request is going to be granted.
He gets up and comes back a few seconds later. I catch a glimpse of a condom on his cock. Ooooh, it is going to happen. "Did I tell you to stop using the wand? Put it back where it belongs." The wand had fallen out of my hands as I was waiting for what he had planned now. I hear him squeeze out some lube and a few seconds later, a finger is playing with my asshole. I relax. The wand's vibrations are putting me into a lulled state where I am so horny that I can barely think straight, and I want this moment to never end. He slowly pushes a finger into my ass. I moan as I try to relax. He pulls it out and pushes it in again, trying to stretch me. Slowly, gently. My eyes are closed.
Another finger, and another finger. I try to stay relaxed, wanting it, a bit scared that it will hurt. It pinches a bit but after a few moments, I enjoy the feeling of fullness. He pulls his fingers out and I can feel the head of his cock at my opening. I hold my breath. I know this is going to stretch me. But I am ready. He pushes in a little and then pulls out again. After a few moments, he has pushed in so deep, that his whole cock is inside of me. And then he starts moving. He holds onto my hips and fucks my ass. "Fucking anal slut. You think you can make requests? Let me show you where your requests take you."
I drop the wand. I am a slave to my Master's motions. And I can feel him fill me up. I am so relaxed now that it seems almost natural to have his cock inside my ass. He is fast, he does it hard. I almost forget to breathe, listening to his naked skin slapping against my cheeks. "You enjoy being fucked in the ass, nasty anal slut?" – "Yes, Master!" I moan. His nails dig deep into my hips and it hurts. But I can't move. I am pinned down, and I am loving it. Right now, I am nothing but a toy to be used. I can feel him tense up, and then twitch. He moans. His anal slut made him come.
I prepare to get up. But he doesn't let me. "Turn around. I want to see your face." I do as I'm told. I see that he is holding the wand and is putting lube on to a dildo. It seems like we are not done yet. I automatically spread my legs. I rest on my elbows and look at him. He is smiling. He pushes the dildo into my ass while observing my face. I moan. The wand is pressed against my clit. He moves the dildo faster and faster.
I push myself towards him, I want more. I want harder, I want rougher, I want more. And I come, again and again. The sensations on my clit get too much and I try to push his hand away. He laughs at me and starts hitting my clit with the wand. Suddenly, I don't know what is happening anymore, as I am lost in a space of total submission and horniness now.
I can feel something else building up. I open my eyes and want to tell him but it is too late. And I come so hard that I squirt all over his arms and legs, my asshole, my cunt, my clit, everything is twitching. I scream and then fall back and close my eyes. He turns the wand off and pulls the dildo out of my ass. "You are a great anal slut, puppet. Good girl" He leans over me and gives me a kiss on the forehead. I am blushing and smiling. Who knew that words like that could create fireworks in my mind.
(If you want to see more sexy pictures like this and whole photosets of me, and even videos of some real live action, why don't you subscribe to my OnlyFans? Do it!)