Bestvibe's Lipstick Vibrator and Remote Control Vibrator – Sex Toy Review
It is time for another sex toy review! I haven't done one of those in a while so I was quite excited when I was asked to review another product for Bestvibe! They sent me two toys in one: a lipstick shaped vibrator and a wearable vibrator which can be remotely controlled by the lipstick. So here we go, let's see what I thought of Bestvibe's Lipstick Vibrator and Remote Control Vibrator.
The Whats and Hows
The two toys came in a very cute box, and with a manual in several languages. Before going into how and if I enjoyed the product, let's take a look at some of the specifications first. The lipstick vibrator has a casing made out of black non-toxic ABS. You can open it just like a lipstick if you want to get to the actual vibrator. That part is in a delicious red and is made out of medical silicone. So this toy is body safe. It has three button you can use for either controlling the lipstick vibrator itself or remotely controlling the wearable vibrator, changing through three speeds and nine frequencies. It is 110 mm long and 25 mm wide.
The wearable vibrator comes in pink (it is also available in purple). It is made out of medical silicone as well, which makes it body safe. It has a 20 mm wide bulge on the bottom that is meant to go inside your vagina, and a little bulge that is to placed on the clitoris. The whole thing is 50 mm wide and 88 mm long. It has one button that you can either use to make it ready to be remotely controlled by the lipstick vibrator, or to be used on its own, with several frequencies and speeds.
Both vibrators need about two hours to be charged, and they are charged with a magnetic USB charger. They can be used with a waterbased lubricant, and are best cleaned with warm water and soap.
The Lipstick Vibrator
Now that we got that out of the way, let's talk about what I think about the toys! I really love the lipstick vibrator. It is cute and small. I can totally see myself putting it into my purse and having it at hand if I am on the go, and need some quick release. It is a little bigger than an actual lipstick, but I doubt anyone would bat an eye if they saw it among my other make up stuff im my purse. I really like that it has a cap so the actual vibrator is kept clean in case you want to carry it around with you.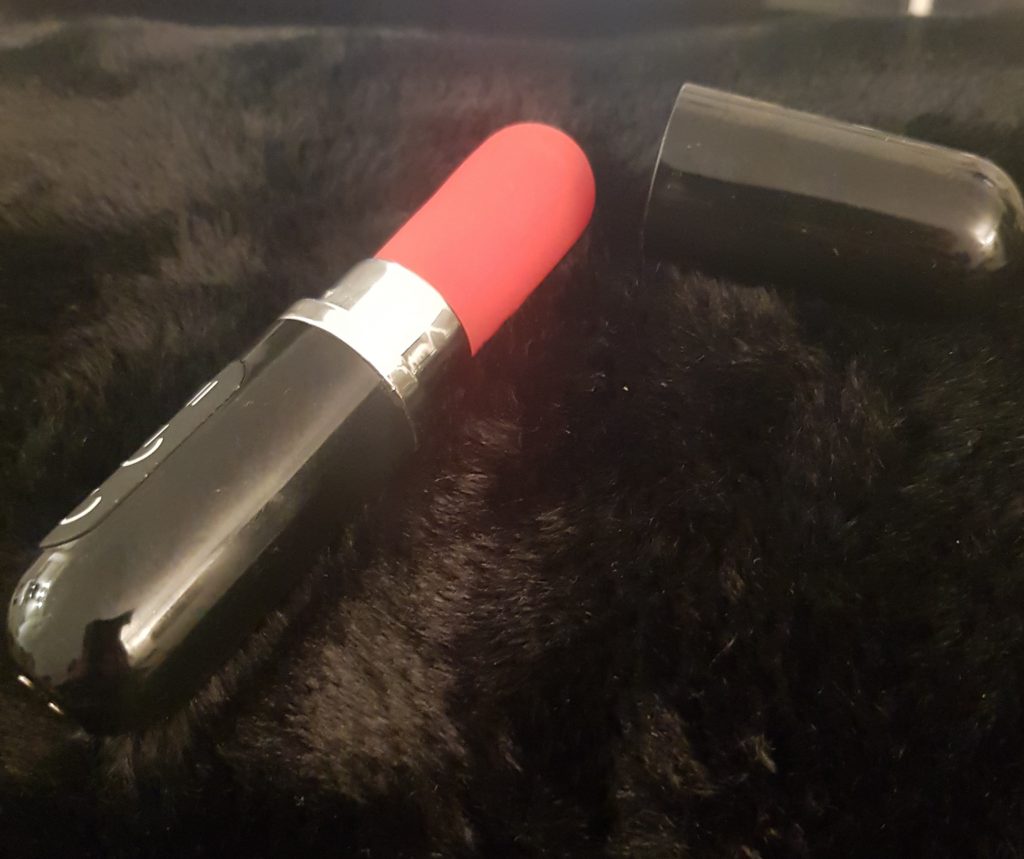 I used it on my own, and also let my partner use it on me. It is quiet and has a good vibration to it. Clicking through the settings is easy once you figured out which buttons do what. I personally often go with the fastest speed and that worked really well with this vibrator. Because the motor is a little smaller like for an instance in a wand, I might not choose this vibrator to get off really hard. But I found it a good toy to get myself in the mood to have some fun with my partner, and it did manage to give me a few smaller orgasms. I love strong vibrations and like things a little rougher, so I can imagine that for those who have more sensitive clits or don't like the very strong wands, this vibrator might actually be quite perfect.
Using it with my partner was definitely fun! It was really nifty addition to our foreplay and he was able to make me come with it a few times, to the point where I had to ask him to stop because I was ready for him to actually fuck me and have his way with me. It left me all hot and bothered. So the lipstick vibrator was a fun toy to play around with before the actual act.
The Wearable Vibrator and Using Them Together
I also tried out the wearable vibrator before using it together with the remote control in the lipstick vibrator. It works really well on its own and I love the feel of the material. A bit of lube and I was all ready to go. And go I did, more than once! The vibrations in the different parts of the vibrator are actually quite interesting. All I had to do was to hold it in place and I had the pleasurable time I had envisioned. Just like with the lipstick vibrator, I used the highest speed and although I could get to an orgasm, I would have preferred stronger vibrations. I think that is personal preference though.
Using the two toys together was really fun! I didn't have the opportunity to try it out while being out of the house, but I can totally imagine it being a fun and sexy thing to do: placing the vibrator in your knickers, siting in a cafe and allowing your partner to control the different vibrations and getting you all hot and bothered in public, while you are trying to pretend like nothing was happening. That does sound kind of hot, right? While the vibrator is not very loud, I would suggest using it in a busy and loud place though, because it is not silent!
Finding the right position to put the vibrator onto and inside my vagina without later having to hold or push it into place, I found quite difficult. We all have different genitals, and for me, it just doesn't stay where it is supposed to be. The vibrations throughout the whole vagina make up for that though, because that is quite a pleasurable feeling too. Walking around with a vibrator in your knickers was fun, made me giggle and also aroused me. Yet again, I find this to be a great thing to use in foreplay, where you partner can slowly make you more and more aroused by using the different settings on the remote control.
My Verdict?
I liked the toys because there are so many options and so many things that you can do with them. You can use them by yourself, or with a partner. And you can carry the lipstick vibrator in your purse for a quick orgasm on the go. You can have lots of naughty fun with a partner and the remote option, or you can spend some time alone with either of the vibrators. I found the strength of the vibrations a bit weak for my own personal taste as I like it rough. But they still got me where I wanted to go, orgasm-town!
You can purchase the toys for 39.99 Dollars here.
I offered to write an honest review in exchange for the toy and a small fee.
Read my other sex toy reviews here.