Vibease Smart Massager – Sex Toy Review
I received an email not too long ago and was asked to review a sextoy. So I checked out what kind of toy they were talking about. I found the different functions it offered and the promise for body safety intriguing. So here you have me, writing an honest sex toy review on the Vibease Smart Massager!
The vibrator came in a neat box containing the vibrator itself, two charger cables, a cute bag to store it all away later, and a manual. The first thing I felt tempted to do, was to touch the tiny pink plaything! And it felt all soft and smooth. It is covered in pink silicone and felt really amazing just touching it.
I read through the manual which was comprehensive and helpful, and then charged it just as it said I should. After the three hours of initial charging, I finally was able to give it a go! I knew that it has a lot of additional functions, but first and foremost I wanted to try out if it could do the basic job of a vibrator: to make me feel good and then get me off!
Playing Alone
I must admit that I was a bit skeptical because I prefer strong vibrations to actually enjoy a vibrator and get to an orgasm. And the Vibease Smart Massager is tiny and didn't seem powerful, just touching it. How wrong I was! It has five different settings so there is something for everyone, and the strongest vibrations did it for me! I loved how the vibrator felt in my hand, and when I cupped it into my naked vagina, it was embraced perfectly by my lips. After I figured out which button was the on/off and which one was for the different vibrations, things really got down to business fast!
Listening to Erotic Fiction
And now I was even more curious to try out all the additional functions! So I downloaded the recommended app from the Google Play Store and I had a look around. I didn't find any guide on how to use the app or what exactly I was supposed to do. But after clicking around a bit, it was all really easy to figure out. First, you need to connect the vibrator to the app with bluetooth. I am not very good with technical stuff, but I followed the instructions, and who knew, the vibease got paired with my phone!
The app has several functions, but there were two I was particularly interested in: the erotic fiction and the call function. No, you can not call someone with the vibrator, although, that might be a fun addition to consider!
I scrolled a bit through the different erotic fiction that they had to offer and picked two that I wanted to give a listen, and that were for free. The stories are narrated in a way that the narrator actually talks to you. It first felt a little bit awkward, but then I let go and enjoyed the ride. So you pair the vibrator to the app, and then place it on your vagina. I pulled my underpants over it so it stayed in place, pushed against my clit and the rest of my vagina with my outer lips. And then I listened to the story.
When the more sexy and smutty parts of the story unfolded, the vibrator started vibrating without me even touching it. I could just lean back, listen to the words and allowed the mental and physical sensations to take over. I didn't have to touch anything, I didn't have to move. And did I get off? Oh yes yes, I did!
Playing with a partner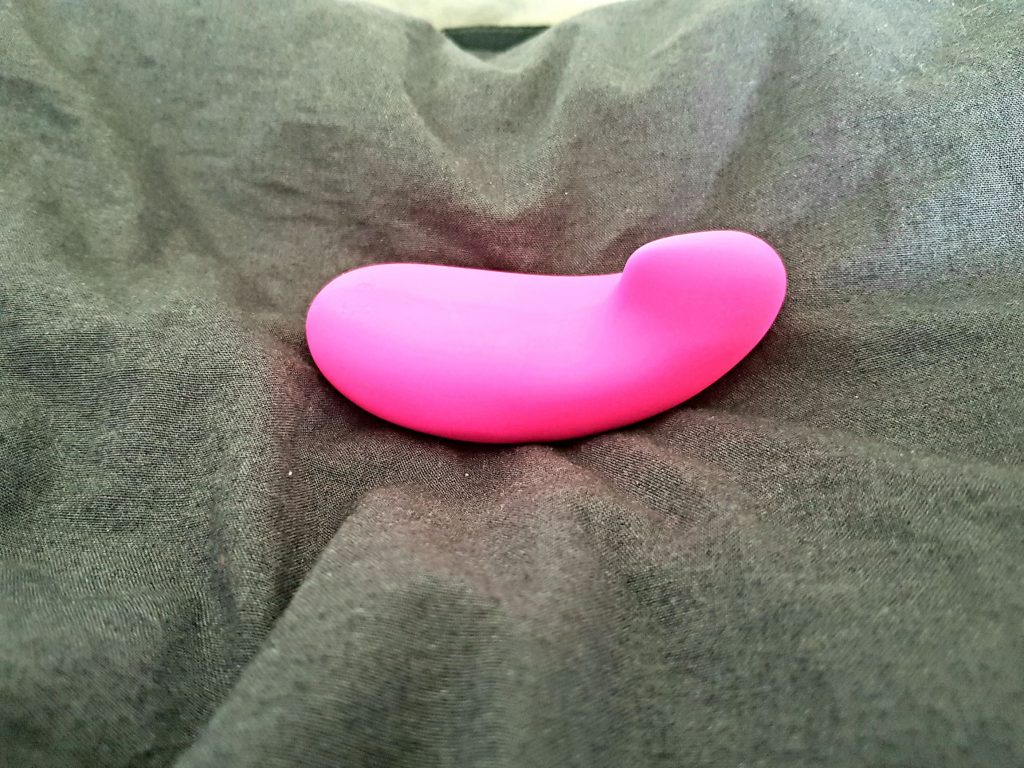 Another function I really wanted to try out was the remote control one! For that, I needed a partner! So my boyfriend downloaded the app, signed up (for free!) and we started a video call. Now, I have been in long distance relationships, and they can be a drag. There is no physical touch and you need to get creative sex-wise. So I wanted to see if the vibease would be a cool option to add some spice into long distance relationship.
After some fiddling with buttons and such, I places the vibease into my panties and the party got started. It was quite fun to give my boyfriend that kind of control over my orgasms (and well, I love being controlled sexually!) and my sexual pleasure. He played around with the different buttons and strengths of vibrations. He made me giggle and moan while we were in a video call through the app with each other! So I can totally see how that function can be a great addition to anyone's sex life, but specifically that of those who are in long distance relationships!
Final Verdict?
So what is my final verdict? I quite like this product! It feels nice to touch, it gets me off, the app adds such a great range of functions, the battery life is very impressive and I love how it is very quiet, which kind of seems like an invite to use it in outdoors or public scenarios.
Check out the Vibease Smart Massager, it might just be something for you!
I am not affiliated with the company and I am not getting paid for any purchases made on that website. In exchange for the product, I promised to write an honest review.