Back-Arm Harness
My Master and I have been more into ropeplay lately and while a lot of ties are beautiful, not all of them are practical for a fun and kinky time. I loved doing the rope dress, but I don't really see myself getting fucked in it. The gag tie that we tried out a while ago was more practical in that sense, because not only did it look good, it also shut me up quite effectively! I had similar hopes for the back-arm harness that we tried out this weekend.
It looks like a simple harness but it is a rather complicated process with a lot of steps. This tutorial explains it pretty well though and my Master managed to get it right, and perfectly so, on the first try. I realized right away that the harness was not thought out for people who are overweight. I have quite large upper arms and I am also short (which translates to short arms) so I had a difficult time even getting my arms in the right position on my back. There was no way for me to get them as high up as they were supposed to be, because my upper arms were in the way. My hand was supposed to be almost at my elbows and as I am not a circus artist, I was just glad I got my hands to the opposite arm's wrist.
I must admit that for a moment that felt quite discouraging. I know that I am overweight but realizing that it makes it more difficult to do something that I really want to try out, is a bummer. But we gave it a go and as you can see, it worked out!
I really enjoyed the feeling of restraint and the way he pulled and tightened the rope around my arms and my wrists. I experienced the sort of floating freedom that many rope bunnies describe when being under the control of a rigger. It didn't hurt, but it was definitely not a comfortable tie for me, because the harness pulled my body into shapes and directions, that it really can't do because of my physical shape and traits.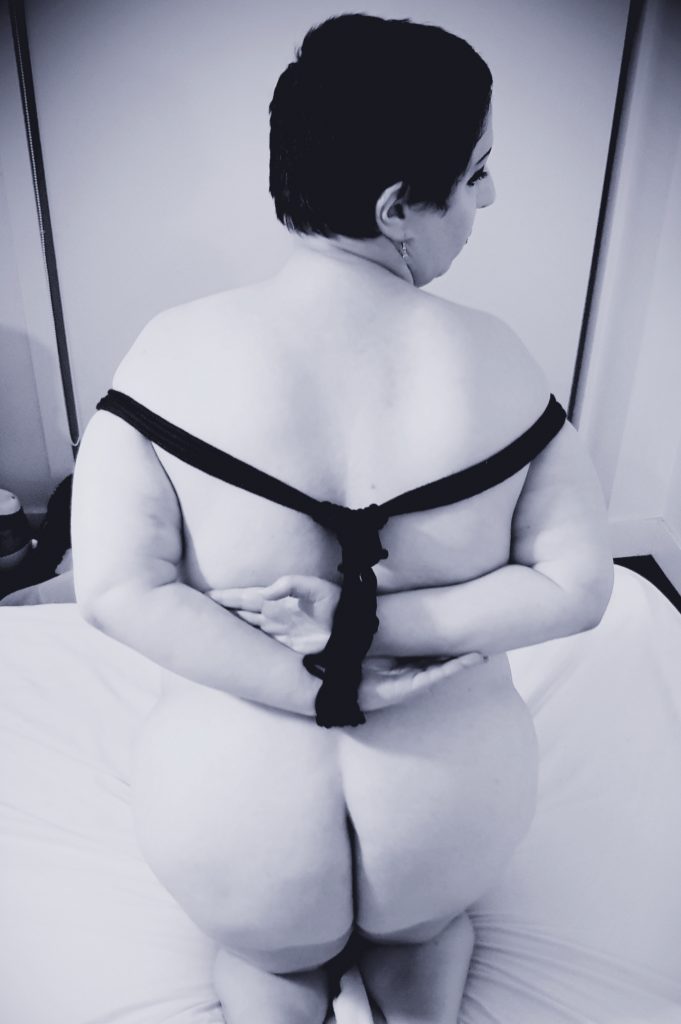 One thing is for sure: the harness made me feel restrained and I couldn't move my upper body much. So I can see it work for play and sex. I was not aware of how much my arms actually contribute to my balance so when I was on my knees and was told to move a little, I fell over more than once quite ungraciously!
After about twenty minutes in the harness, my fingers started to tingle, so we had to remove it. We are always careful about bloodflow and to not hurt muscles and nerves but I guess it was more the position of my arms, than the rope that made my fingers tingle. I had quite a bit of pain in my upper arms for a few hours and couldn't really move them and today, my hands, fingers and arms hurt a bit. But I really don't put it down to the harness, but more to that my body type in that particular harness just wasn't the right fit. It looked pretty though, and I enjoyed the feeling of being restrained, and had a good laugh when I fell over.