SoSS #4
Look at me, almost being on time with this! I deserve a cookie! I feel like this week has been a week of deep and heavy topics, hasn't it? I've read a lot of sad and heartbreaking stories. But on a positive note, it seems like I have gotten to know a lot of the people in the sexblogging community better. And, as always, there were a lot of naughty stories and pictures that blew my mind and left wet stains in my panties. So let's take a look at all the pieces that impressed me most the last seven days!
Pictures
I love summer fruits, and berries are among my favourites! So this picture of Jupiter Grant's deliciousness caught my eye right away. I love the concept, and I am wondering how she was able to keep the whipped cream and the strawberry all in place while taking a picture. I would have ended up with berries under beds, and white stains all over my naked body. Impressive! Take a look at the full version of the picture here.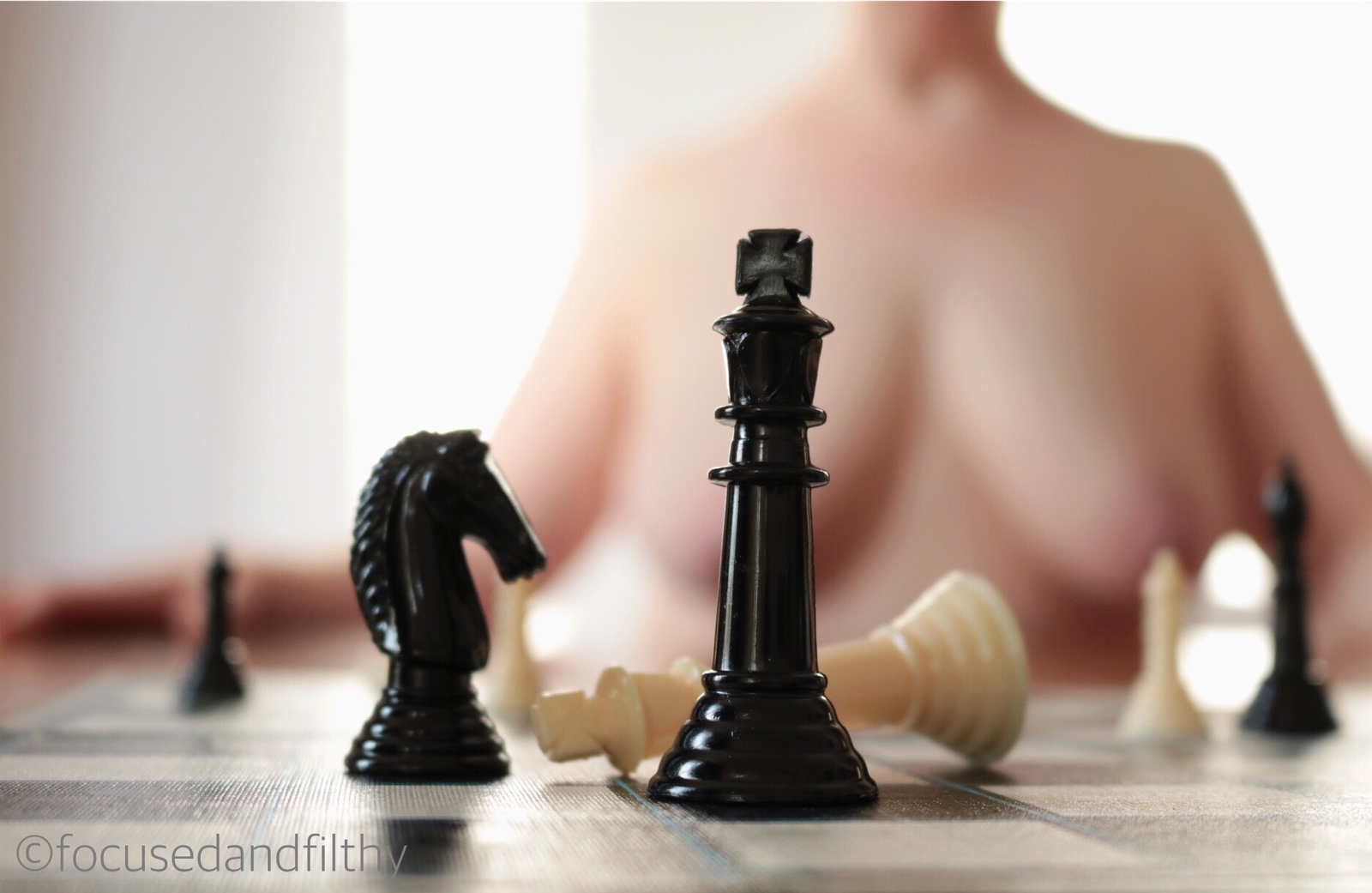 I feel like Focused and Filthy is on my list almost every week? This is such an amazing picture! I must admit that I don't really have the patience for chess but I might just want to join in a sexy game of chess if this is what I get to see! Do I surrender? Oh yes, you win, my dear! You win! You can see the full version of the picture here.
I very much adore this image by loveisafetish. I am a sucker for black and white pictures, and this one has it all: a sexy outfit, a perfect angle, an amazing body and just the right atmosphere. I very much want to to steal that outfit, or at least spend some private time with her wearing just that! We would just chat about sexy outfit and perfect angles, I swear! You can see the full version of the picture here.
Fiction
HisLordshipUK wrote an amazing but also sad story about passion in the trenches. He describes the scenery with absolutely beautiful words, leaving you speechless and in despair about the fate of the two lovers. I could almost feel the sand filling my lungs as I held my breath during the most passionate and dreadful moment anyone could experience. Read The Digger's Kiss!
Bluesubmission wrote such an exciting story this week! The words she chose, the scenes she created, nature's beauty and the magical world of dreams, it is all in this sublime product of the writer's mind. Follow a hunter's journey through desperate last moments that lead to a surprise ending! Read The Hunter!
TKBW wrote a very hot story about a new neighbour, glances through windows and how distance can mean so many things, but also nothing. Follow the protagonist's rising arousal as she discovers the alluring features of a new man in town. Read Mutual Appreciation!
Reflections and Mental Health
Jupiter Grant wrote a very personal account of some very dark times in her life. Cancer and losing a loved one led her to a place of despair. It was heartbreaking to read about that one night that was close to being her very last one, as she almost made a very lasting decision in a drunken haze. I am so very glad she has been able to come out of the darkness, and now has shared her story with us. Read A Near Miss!
Violet Fawkes brought me to tears this week with her raw and emotional words. She writes about the terrible things that people have done to her, the events she had to survive and experience, and the pain it has caused her. But I could also sense an immense strength in her words. Read Survival is not the same as living!
Submissy wrote a post that made me think about how writing on the internet actually can help us with our confidence. It gives us a kind of control that we might not always have in real life. A lot of us writing blogs might not always have a strong voice when being among other people, but our blogs give us the voice we so very much deserve! Read Being Overlooked!
My Own Writing
The depression that had crept up on on me while my Master was abroad has unfortunately not ceased. It has blossomed and dragged me into some kind of endless dark abyss. Someone remind me to send a thank you note to my bipolar disorder, please? Surprisingly enough, I have still been able to write, and to take pictures! My erotic story The Secret Chest made it into the Masturbation Monday round-up, yay! I also got mentioned in a few fellow bloggers' #SoSS (here and here). I wrote a reflective post on dependency and survival, and another one about a suicide attempt that got very real. I also finally found the time to work towards finishing the 30 Days of Submission Challenge (I know I didn't finish it on time, but I want to finish it nevertheless!). And I posted pictures for Sinful Sunday, Lingerie is for Everyone and Boobday!
I have a ton of posts planned for next week! I finally decided to get more organized with my writing and created a spreadsheet. Look at me being all professional! I am going to write a post on Swinging, and another on Erotic Humiliation. I will finally finish the 30 Days of Submission Challenge. I will write my post for the Erotic Journal Challenge, and I already have posts planned for Masturbation Monday and Wicked Wednesday. I have started to continue the stories of Drusilla – Queen of Vampires, and Auntie Jeanie! I have a fantastic idea for the Sinful Sunday prompt next week. Aaaaaand, I want to write posts on cum tributes as my kink, penis size and the differences and similarities between trance, dissociation and subspace. So watch me depression, I am going to kick your butt!